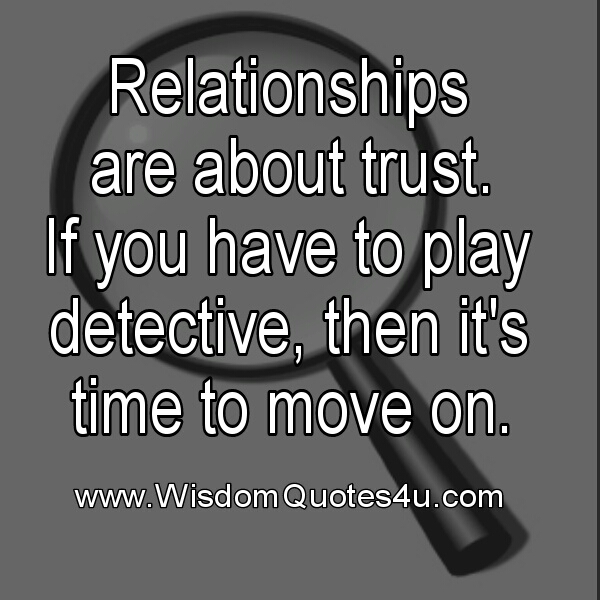 Sometimes you just have to let go, when your trust has been shattered.
It's better to live alone or find someone new than be unsure. 
Don't look back once you're gone.
Been there done that. Not worth anyone's time to play detective. Best to move on. ~ Dean Schiessl
To begin a relationship and make oneself vulnerable there was a real basis for trust. The trust was the foundation for the relationship. If it was tossed to the wind and is not worth what has become very very high risk ( an individual decision) then it is done. All the rest is self deception. ~ Gary Roach 
If you're with someone you'd never betray, yet, they still feel as though they need to play detective and the false accusation game just to find something wrong when there isn't, then it's also probably time to move along. ~ Audrey Bryant 
Follow through with the "moving on " or unfortunately you'll be faced with more hurtful actions by the selfish ones who can't be trusted. ~ Kelly Baer 
You can never fall back into trust once it's been tampered with.
Distrust might be there due to immature understanding. Try hard to earn your partner's trust.
Some personalities constitute playing. Game comes to gamers. The artistic pleasure of life is challenge. We only receive what we put out. Who comes into our lives is the direct reflection of self being projected. 
If you let them get away with it once, they'll just do it again. That's not forgiveness, that's just stupidity. ~ Jessica Gonzalez
Got Something to Say! Comment below :-
comments