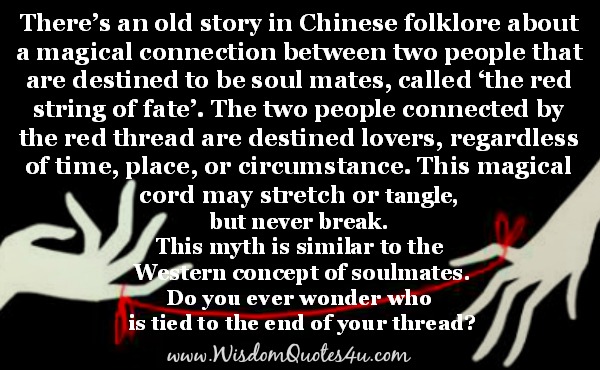 A soul mate is a connection of two souls walking the same spiritual path, working together to achieve a higher purpose or learn an important lesson, could be a lover, sibbling, parent, friend, child & so on. ~ Terri Rhodes
Our threads are connected to many people, some we will never know because we tie ourselves with our threads instead of acknowledging them and see who else we are connected to with them.
It's a myth, they believe that there is a God of love, his job responsible is to connect lovers together by using an invisible red string tie them together, sooner or later, they will meet and fall for each other. ~ Wenyu Chen
He may have lives in another time and place and we've missed each other. Maybe we have to wait for our next life time to meet. Maybe we met in another life and now we are separated by time and space. ~ Robin Lewis
Just waiting on God to put me and my soul mate on the same path. Patience in trusting the lord is handling it all for me. He knows the desires of my heart, my wants and needs and is working on that for me. I trust in his timing. Not a second too soon or too late.
Got Something to Say! Comment below :-
comments